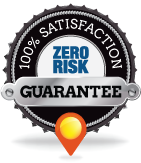 We make local search optimization simple, easy, and effective with guaranteed results so your local business gets found online.
Our team has been helping businesses like yours navigate the complexities of online marketing since the beginning of the Internet.
Our goal is to build the best suite of tools and services for local businesses through our parent company, Local Market Launch — to enable your business to simplify its marketing needs, not complicate them. As our founder Brian says, "Simple things get complicated, and complicated things don't get done," and as a successful entrepreneur you understand delivering your business first to customers online must get done.
Like you, we hold ourselves to the highest standards of ethics, professionalism, and customer service.
The following are a few of our core business beliefs:
We only believe in win-win relationships.
We are dedicated to providing cost-effective solutions to our clients.
We believe our clients should be able to call us directly.
We strive to under-promise, then over-deliver.
---
Core Team
Brian Coryat
Founder & Chief Executive Officer
Well-known as one of the pioneers of Internet marketing, Brian has been at the forefront of several successful Internet ventures. After launching the first Internet Directory Listing Service in 1995, AAA Internet Promotions, Brian went on to launch Web-Ignite, one of the first SEO companies. After Web-Ignite, Brian then founded ValueClick (NASDQ: VCLK) and was awarded the Ernst & Young Entrepreneur of the Year Award in 2000 for eCommerce, the very first year that eCommerce became a category.
Brian has been involved as founder, CEO, and investor of several companies, including ValueClick, Website ASP/Omni Edit, AppShouter, Hispano Info, Make It Work, SeaCoast Yachts, and Visibility Factor. Brian started Local Search Optimization to respond to the growing need of local service businesses to launch and expand online.
Gideon Rubin
Chief Marketing Officer
Gideon has more than 15 years of entrepreneurial experience managing marketing, operations, finance and technology at the local, national and international level for both start-up and established product owners, and advertising agencies.
As a serial entrepreneur, Gideon has started and sold several businesses including the education marketing business Simply Ideas, sold to publicly traded Lenco Mobile (OTC: LNCM), the search marketing software company MicroGravity Media, Proper Hosting, and several highly regarded social media ventures.
As a technology leader, he has contributed to the Search Engine Journal, Performance Marketing Blog, has been featured on Webmaster Radio, and his ventures have been selected by KillerStartUps.com and The Launch Pad. He has also served as a panelist for SEMPO and on the Boards of "Impact" organizations LifeShift, Shoptricity.com, The California Coast Venture Forum, Santa Barbara Mobile and The MIT Enterprise Forum.
Gideon has experience working on interactive campaigns for brands including Citibank, TamiFlu, General Motors, Kaplan University and others. Gideon graduated Cum Laude from Brandeis University with a B.A. in History, focus in Environmental Science and certificate in Legal Studies. He received his MBA from the University of Miami in Finance and Applied Statistics and is a member of the international business honors society, Beta Gamma Sigma
Travis Purdy
Chief Technology Officer
With over a decade of experience designing and developing complex eCommerce solutions and integrations, Travis's mission is to architect the Local Search Optimization system to provide tools necessary for clients to maximize their online web presence, while maximizing the user's experience and maintaining high efficiency and scalability.
Travis has expert knowledge in foundational web technologies, and is continually expanding his repertoire as the technical landscape changes. He began his entrepreneurial career developing proprietary eCommerce solutions for businesses in a variety of industries. Most recently, he co-founded and served as Chief Technology Officer of Zuujit, LLC, where he architected and developed innovative mobile- and web-based tools designed to simplify the process of buying and selling online.
Travis has a bachelor of science degree in astrophysics with a minor in music history from the University of California at Los Angeles.
Bert Haley
Client Services
Bert is dedicated to fulfilling his clients' goals and he will go above and beyond to deliver rankings that result in high returns on investments.
From his varied business ownership experiences over the past 20 years, Bert recognizes that each business is unique. He has owned and operated several companies including Haley Motors, KidSafari Summer Camp and After School Programs, Dolphin's Bay Pizzeria & Cafe, and B2 Designs. Bert has excelled in sales and marketing and is committed to keeping things simple and effective for each client.
With his web and graphics background and expert knowledge of search services, Bert is committed to help your business reach potential customers through Local Search Optimization, assuring that you are listed at the top of the search rankings. Bert is attentive and will help customize solutions to fit your business needs based on your goals, budget, and long-term strategic objectives. He knows first-hand that it is crucial to have people find your business ranked at the top and LocalSearchOptimization.com is a highly effective way to achieve that.
Angela Tan
Client Services
Captivated by local search strategies and how they impact real world results for local businesses, Angela researches the latest trends in local search optimization and contributes to our blog, among her many other duties.
Currently a senior at the University of California Santa Barbara, she has been actively sharing her enthusiasm for marketing and entrepreneurship through her roles within the Alpha Kappa Psi – Omicron Omega business fraternity as well.